Prime Minister Narendra Modi's decision to repeal the three controversial farm laws has been hailed by a majority of celebrities from Bollywood.
But some stars expressed a different point of view.
Celebrities like Sonu Sood, Diljit Dosanjh, Taapsee Pannu, Richa Chadha, Gul Panag, Sayani Gupta and Divyenndu Sharma welcomed the decision but Kangana Ranaut called the decision 'absolutely unfair'.
Calling it a big decision, actor Sonu Sood thanked the farmers and Prime Minister Narendra Modi.
This is a wonderful news!
Thank you,@narendramodi ji, @PMOIndia, for taking back the farm laws. Thank you, farmers, for raising just demands through peaceful protests. Hope you will happily return to be with your families on the Parkash Purab of Sri Guru Nanak Dev Ji today.

— sonu sood (@SonuSood) November 19, 2021
Richa Chadha wrote, "Jeet gaye aap! Aap ki jeet sab ki jeet hai"
जीत गए आप! 🙏🏽 आप की जीत में सब की जीत है 🙏🏽 https://t.co/r9jwMuXvL8

— RichaChadha (@RichaChadha) November 19, 2021
Taapsee Pannu retweeted the news and also wished everyone on the occasion of Guru Nanak Jayanti, which was the day on which the Prime Minister announced his decision.
Also….. Gurpurab diyaan sab nu vadhaiyaan https://t.co/UgujPdw2Zw

— taapsee pannu (@taapsee) November 19, 2021
Diljit Dosanjh, who had extended support to farmers by joining the agitation also reacted to the announcement, he wrote "Shukar Parmatma Da Nanak Naam CHARDI KALAA Tere Bhane Sarbat Da Bhalad Shukar."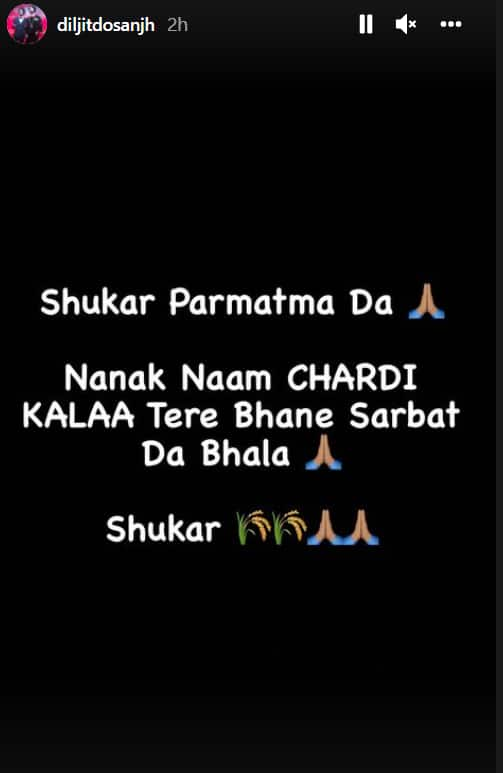 Gul Panag, Divyenndu Sharma and Sayani Gupta also celebrated the move.
Grateful to @narendramodi for repealing the Farm Laws, finally.🙏
I wish we didn't have to let the impasse last this long, cause so many lives to be lost. And demonise, debase, delegitimise the Farm Protest and the protestors.#Farmlawsrepealed 1/2

— Gul Panag (@GulPanag) November 19, 2021
Congratulations Farmers. You showed it's possible. Protests work.
Prayers for all who lost their lives. Their sacrifices didn't go in vain.
May God always be with you our Annadaatas!
Jai Jawaan Jai Kisaan!
🤍💚

— Sayani Gupta (@sayanigupta) November 19, 2021
All 3 New Farm Laws to be repealed..!!!

What a good decision this is. Thank you Govt. Of India 👏🏻👏🏻👏🏻

Big Victory for our farmers 👏🏻👏🏻👏🏻#democracywins

— divyenndu (@divyenndu) November 19, 2021
Actor and Padma Shree awardee Kangna Ranaut expressed her disspleasure on social media and wrote "Sad, shameful and absolutely unfair… if people on the street have started to make laws and not the chosen government in the parliament then even this is a jihadi nation… Congratulations to all who wanted it like this."
Click here for Latest News updates and viral videos on our AI-powered smart news
For viral videos and Latest trends subscribe to NewsMobile YouTube Channel and Follow us on Instagram