India reported 24,882 new COVID-19 cases, 19,957 recoveries, and 140 deaths in the last 24 hours as informed by Ministry of Health and family welfare.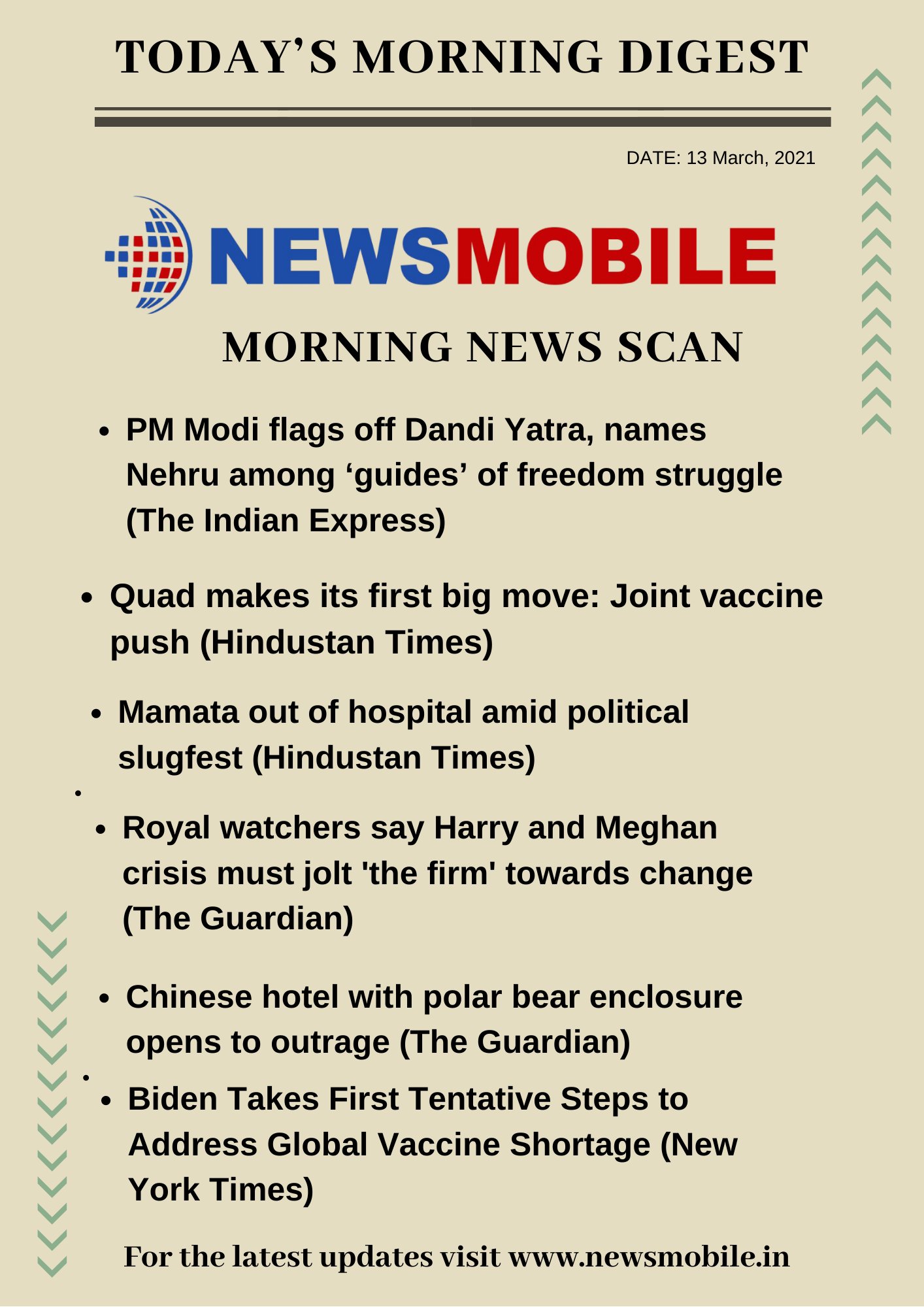 Here are the top 10 developments
Amid a spike in COVID-19 cases in the state, social distancing norms were flouted in Maharashtra's Nagpur as people gathered outside a liquor store on Friday night ahead of a week-long lockdown starting on Monday.
Only essential services such as vegetable and fruit shops and milk booths will stay open, according to the order issued by the district administration.
"Complete lockdown to remain imposed in Nagpur City Police Commissionerate area from March 15 to March 21. Essential services will continue," said Nagpur Guardian Minister Nitin Raut.
The nationwide COVID-19 vaccination has crossed 2.80 crores coverage, informed the Ministry of Health and Family Welfare on Friday.
According to an official release, a total of 2,80,05,817 vaccine doses were administered in the country, as per the provisional report till 8 pm on Friday. "These include 72,84,406 health care workers (HCWs) who have taken the first dose and 41,76,446 HCWs who have taken the second dose, 72,15,815 front line worker (FLWs) who have taken the first dose and 9,28,751 FLWs who have taken the second dose, 12,30,704 beneficiaries aged 45 and above with specific co-morbidities and 71,69,695 beneficiaries more than 60 years old," the release said.
It added that a total of 18,40,897 vaccine doses were given till 8 pm today, the 56th day of nationwide COVID-19 vaccination.
The Department of School Education of Punjab on Friday declared preparatory leaves for all classes in government, government-aided and private schools, informed the Punjab Education Minister Vijay Inder Singla.
"The teachers will continue to come to the schools. The students, who want to have any guidance from their teachers regarding exam preparation can come to school," Singla said. "The final examination in schools would be conducted offline while adhering to the COVID-19 guidelines strictly. The schools have been directed that there should be no crowd in schools during examinations," the minister said.
Maharashtra, Kerala, Punjab, Karnataka, Gujarat and Tamil Nadu account for 85.6 per cent of the new cases, the government said on Friday. "Five states cumulatively account for 82.96 per cent of the total active cases in the country. Two states – Maharashtra and Kerala- account for 71.69 per cent of India's total active cases," the ministry said.
Brazil comes now second in terms of the number of the confirmed coronavirus cases while the death toll from COVID-19 in the country has surpassed 275,000 people, the national Ministry of Health said.
Over the past 24 hours, the Latin American country has registered 85,663 new COVID-19 cases, with the total number has reached 11,363,389. India, which previously came second, has recorded 11,308,846 coronavirus cases. The United States is the worst-hit nation with more than 29.32 million COVID-19 patients. Within the same period of time, the death toll from the coronavirus in Brazil has increased by 2,216 to 275,105 people.
Foreign Secretary Harsh Vardhan Shringla on Friday confirmed that US COVID-19 vaccines will be manufactured in India, adding that they would be financed by the US and Japan with logistical support from Australia.
Speaking at a special Ministry of External Affairs (MEA) briefing, he said: "US vaccines will be manufactured in India. India's manufacturing capabilities and capacities have been recognised in this regard. Each of the other three Quad leaders made it a point to talk about the Vaccine Maitri programme, our endeavour to supply vaccines all over the world despite our own requirements. I think this is being seen as an important initiative to address COVID-19 and put the pandemic behind us."
The Wuhan wet market is still the most likely hypothesis for the origin of the COVID-19 pandemic, according to members of a World Health Organization (WHO) delegation to China.
Zoologist Dr Peter Daszak, president of NGO EcoHealth Alliance which works in the field of zoonotic disease, said the team had identified a viable conduit between the wet market in Wuhan and to regions where the closest relatives of COVID-19 are found in bats, reported Evening Standard.
Click here for Latest News updates and viral videos on our AI-powered smart news
For viral videos and Latest trends subscribe to NewsMobile YouTube Channel and Follow us onInstagram
deathsthe absence of life or state of being deadMore (Definitions, Synonyms, Translation)