India reported 18,599 new COVID-19 cases, 14,278 recoveries, and 97 deaths in the last 24 hours, according to the Union Health Ministry on Monday.
With this, the total cases has reached to 1,12,29,398 including 1,88,747 active cases and 1,08,82,798 total recoveries.
However, the death toll mounted to 1,57,853 including the new deaths.
With 99,205 active cases, Maharashtra continues to remain the most-affected coronavirus state, followed by Kerala with 41,162 active cases.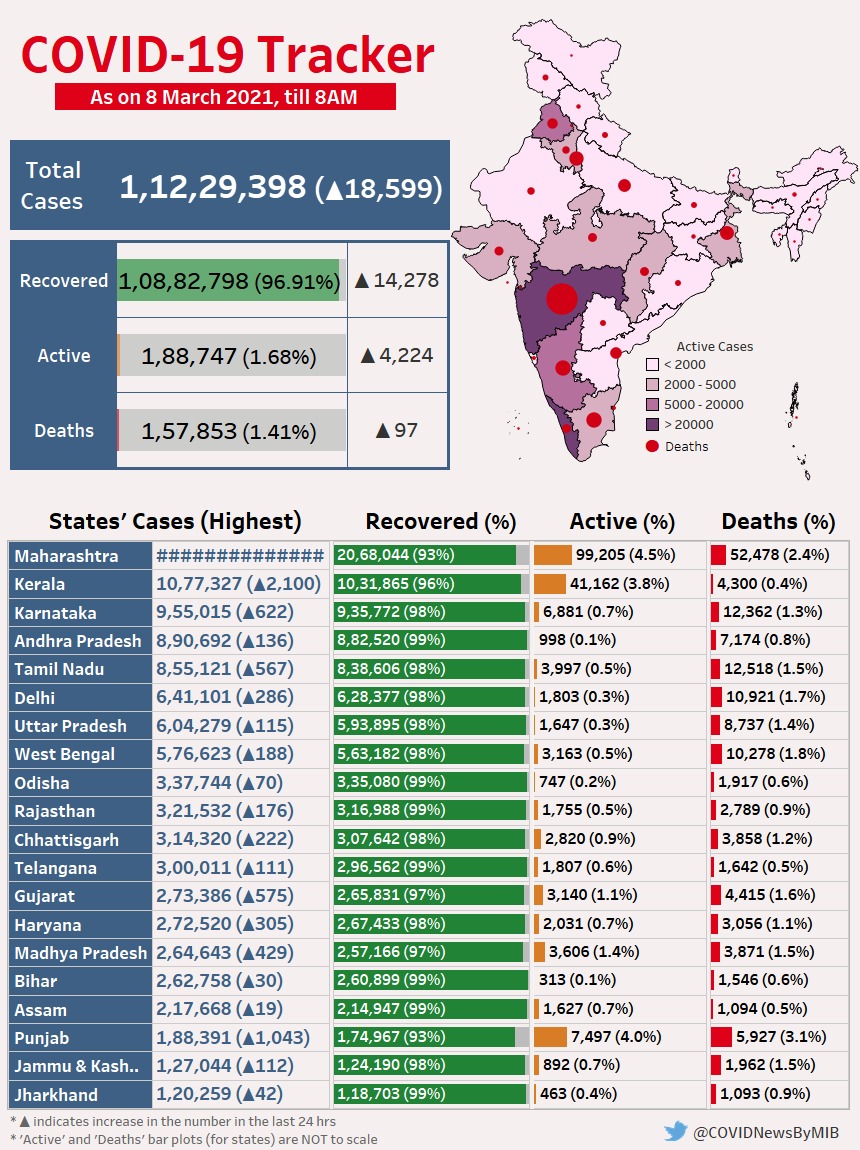 According to the Indian Council of Medical Research, a total of 22,19,68,271 samples of COVID-19 were tested so far including 5,37,764 samples being tested yesterday.
More than 2,09,89,010 vaccine doses have been administered so far, the ministry informed.
The countrywide COVID-19 vaccination drive was rolled out on January 16 and vaccination of the Frontline Workers (FLWs) started from February 2. The next phase of COVID-19 vaccination has commenced from March 1 for those who are over 60 years of age and for people aged 45 and above with specified co-morbid conditions.
Apart from this, a total of 36 people have tested positive for COVID-19 in Maharashtra Legislative assembly, informed JJ hospital on Monday.
"A total of 2,746 samples were tested for re-entry to the legislative assembly for the budget session of Maharashtra on March 6 and 7, out of which 36 were found positive," JJ hospital said in a statement.
The samples were taken from MLAs, their staff, government officials, police personnel and journalists, etc who are attending the assembly sessions from last week. A test was conducted a week back also when over 3,900 samples were tested and 42 were found COVID-19 positive.
Meanwhile, Punjab Chief Secretary Vini Mahajan on Sunday held a high-level meeting with experts to tackle the second COVID-19 wave.Mahajan chaired a virtual meeting of the State Health Response and Procurement Committee of the Departments of Health, Medical Education, and School Education, reviewed and discussed with experts the possible steps to effectively tackle the spread during the second wave, according to a press release.
The global COVID-19 cases have climbed to 117 million, while the death toll due to the virus crossed 2.5 million, according to Johns Hopkins University.
LIVE UPDATES 
Click here for Latest News updates and viral videos on our AI-powered smart news
For viral videos and Latest trends subscribe to NewsMobile YouTube Channel and Follow us on Instagram
deathsthe absence of life or state of being deadMore (Definitions, Synonyms, Translation)