As India successfully moved towards flattening the coronavirus curve, different variants of  SARS-CoV-2 came knocking on our doors. The discovery of the mutant strains poses a big challenge to India's dedicated battle against COVID-19.
The Centre on Tuesday said that four cases of the South African variant of COVID-19 have been detected in India so far besides one case of Brazilian strain and 187 cases of UK strain.
With the rapid spread of these strains across the world and the restrictions being placed again in many countries in the West, it becomes imperative we ask how these strains can affect India?
These three prominent strains of SARS-CoV-2, along with several others, emerged due to mutations undergone by the coronavirus. And this doesn't stop here, in future many other strains of the same virus too can evolve.
To understand it in detail, we should first understand what is mutation?
What is Mutation?
It is the basic nature of a virus to mutate, every virus undergoes mutation.  Scientifically, a mutation is a change in a DNA sequence/ nucleic acid. Mutations can result from DNA/ RNA copying mistakes during cell division/ reproduction of these genetic materials.
In a virus, mutation generally occurs naturally, when it enters a host body and tries to replicate itself. The viruses cannot replicate themselves on their own, they require the host's cell to reproduce its genetic material.
These mutations cause general changes in shape/ nature or characteristics of a virus.
Hence the mutation of the SARS-Co-v2 occurs in the human cells of infected patients, which means we cannot restrict these mutations until we generate immunogenicity in the masses against it.
Mutations in SARS-CoV-2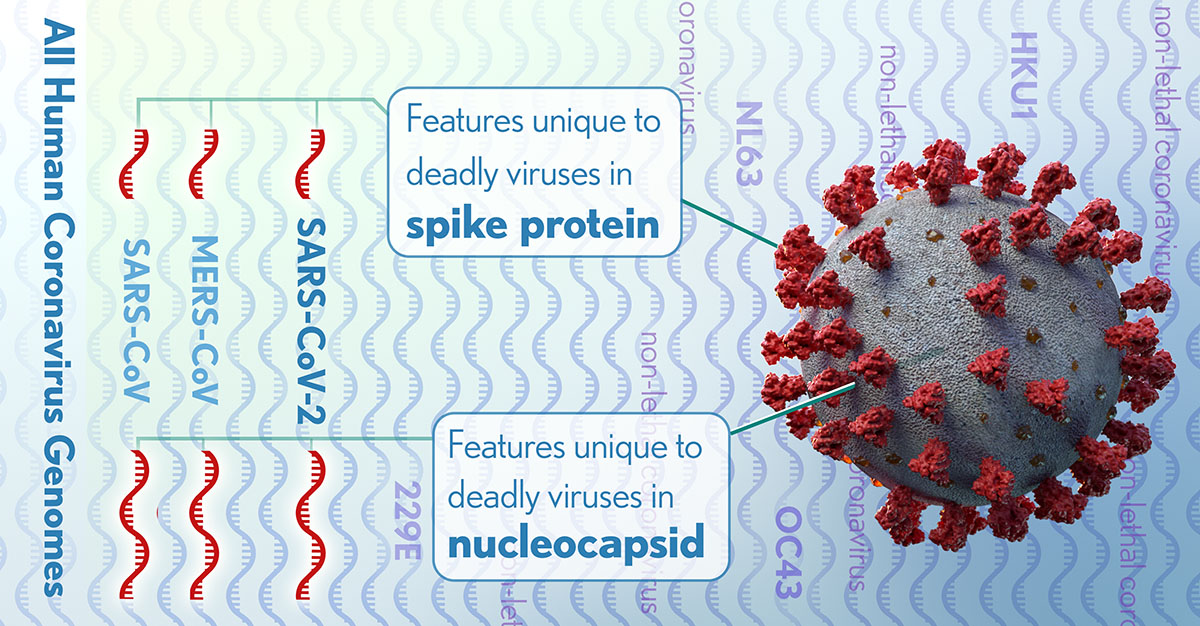 As we know that SARS-CoV-2 (Severe Acute Respiratory Syndrome Coronavirus 2) is a strain of a virus that belongs to the coronavirus family, it also mutates every time it replicates.
However, it has been discovered that SARS-CoV-2 is one of the RNA viruses that have a strong proofreading/self-correcting mechanism, which slows down its mutation rate.
How does mutation occur in SARS-Cov-2?
SARS-CoV-2s's RNA/ genetic material is a blueprint for making more viruses in the host body. So for replication, they use the host's (human's) cell machinery.
At first, the genetic material (RNA in SARS-CoV-2) of the virus, present in the host's cytoplasm reaches the ribosomes (cell organelle).
The ribosomes then read the blueprint and help to produce more of these viruses — by generating different amino acids which will then bind together and form the virus's RNA, similar to the original RNA.
But sometimes, ribosomes make mistakes while copying and producing these amino acids and different amino acids get added to the nucleic chain, which makes it a different protein altogether. Which then results in alteration of the virus's original RNA — thereby producing a progeny virus with different characteristics.
So for eg, if there is a chain of protein that has 'CAG' nucleic acid, read as Glutamine, changes into 'CCG' while reproducing, it will be read as Proline amino acid and will have different characteristics altogether.
The mutation occurs when this
( -XXX-XXX-CAG-XXX-XXX-XXX-)
Becomes this
(-XXX-XXX-CCG-XXX-XXX-XXX-)
Thus, the offspring virus is slightly different from their parents. The mutations create a difference in their shape, infectious nature, transmissibility.
Changes in these characteristics also depend upon where these mutations are happening in the virus.
However, it is important to note that the mutations in the virus only affect that one particular virus, for a mutation to stick and become prominent it has to be able to pass that new characteristic to its new generations while replicating – by infecting new hosts with the same  mutated RNA.
So the new variants of coronavirus strain – UK, South Africa and Brazil ones have been able to replicate their mutations and have thus become prominent.
How does the human body react to the new variants of the virus?
Every time the human body receives a new variant of the same virus, it treats it like a completely new virus. It reads the new variant as a different virus and not as a mutated virus.
Can these mutations make the viruses infect other organisms?
To become infectious to other species, the virus has to undergo multiple beneficial mutations at the same time. It generally takes time for viruses to evolve like that. Even the ancestors of SARS-CoV-2 had to undergo a series of changes to jump from bats to humans.
But recently some cases of minks related to SARS-CoV-2 were reported by WHO.
Since June 2020, 214 human cases of COVID-19 have been identified in Denmark with SARS-CoV-2 variants associated with farmed minks, including 12 cases with a unique variant, reported on 5 November. All 12 cases were identified in September 2020 in North Jutland, Denmark. The cases ranged in age from 7 to 79 years, and eight had a link to the mink farming industry and four cases were from the local community.
Different Mutated Strains Of SARS-CoV-2
In December, two announcements of mutations in the novel coronavirus were announced. Apart from the prominent mutation discovered in the UK, there was another one found in South Africa.
Both were similar in the sense of having mutations over the spike protein of the virus through which the pathogen attaches to human cells.
It was especially a cause of concern as most vaccines being developed are targeting the spike protein gene, alterations in which could render them less effective.
UK Variant of Coronavirus Strain
Covid-19 case rates nearly doubled in London, with almost 60% of these infections attributed to the new strain. UK PM Boris Johnson and scientists explained, the new strain of coronavirus identified in the United Kingdom is up to 70 per cent more infectious but it is not thought to be more deadly and vaccines should still be effective.
The new #coronavirus strain transmits more easily than the previous variant, but there is no evidence that it is more likely to cause severe disease or mortality.

Keep up with the latest… We'll be updating this Q&A as more is found out: https://t.co/FI0FOs4Whg

— Public Health England (@PHE_uk) December 22, 2020
The new UK strain has been named as- B117 virus or VUI2020/21
It includes a mutation called N501Y
The mutation in the UK variant has occurred in the spike protein
The N501Y mutation does not affect the shape of the virus, it doesn't change the shape of the spike protein much, which means it would still be able to bind to vaccines
It is more transmissible but is less lethal
Till now it has been spread across 82 countries as per WHO
UK's Health Minister Matt Hancock has said the new strain is 70 per cent more infectious.
Current data shows that one of the mutations on the spike protein of the virus, called N501Y, will help it attach more easily to human cells
South African Coronavirus strain
The South African variant of the coronavirus was first detected in mid-December 2020. It is also known as 20H/ B.1.351 or 501.V2, has worried scientists because of its unusually large number of mutations, especially in the spike protein, which the virus uses to attach to and infect human cells.
It has multiple mutations in it.
The South African variant carries both N501Y mutation (UK variant) and E484K mutation (Brazil Variant)
Major Mutation in receptor binding of spike protein (which attaches to the human cell) This mutation makes it easier for this virus to lung cells than other coronavirus variants
It is found to be more transmissible and has been discovered in 44 countries as of now
There are no reports of it being deadlier (as of now), but it is a reason for concern because it is spreading more in the younger population
It showed the increased risk of reinfection
However, scientists do suggest that it is, 'less susceptible to antibody neutralization'


⚠️REINFECTION WARNING from the WHO.

"We are now getting reports of people getting reinfected with a new variant—from 🇿🇦 (#B1351)—suggesting people who've had prior infection could get infected again." says Chief Scientist Dr. Soumya Swaminathan. #COVID19pic.twitter.com/crZLmqGqnn

— Eric Feigl-Ding (@DrEricDing) February 12, 2021
Brazilian Coronavirus Variant
The variant strain was discovered in January 2021 and is being called the P1 variant.
The Brazilian variant has the E484K mutation.
It has some similar features to the South African variant
It is also more transmissible
Research is being conducted to find more details about this virus as several countries have already reported this virus variant
Are the Covid-19 vaccines effective against these mutations?
Most vaccine developers produce vaccines against viruses keeping mutations in mind. The vaccines against viruses, generally target that part of the virus that rarely undergoes mutation. But in some cases, the vaccines may not adhere to the mutated virus.
While Bharat Biotech released a study suggesting that Covaxin was capable of eliciting an immune response against the UK variant, it did not test the vaccine's effectiveness against the South African variant.
COVAXIN developed by @BharatBiotech has equivalent immunogenicity against the UK-variant & circulating strains of SARS-COV-2 in India: DG, @ICMRDELHI #IndiaFightsCorona pic.twitter.com/LgFBeNpkHP

— PIB India (@PIB_India) January 28, 2021

Novavax vaccine and another one from Janssen  – appear to offer some protection from the SA variant.
Results from Moderna suggest its vaccine is effective against the South Africa variant, although the immune response may not be as strong or long-lasting.
Apart from this, experiments in South Africa have shown that the Oxford-AstraZeneca vaccine's efficacy dropped 22% against the South African variant. India's Covishield produced by Serum Institute is also based on Astrazeneca- Oxford vaccine.
After this research, the South African government dropped its plan to use these vaccines (Covishield & AstraZeneca vaccine), and has decided to offer it's doses to the African Union, where the variant has not reached.
However, Indian Council of Medical Research (ICMR) on Thursday sad interim results of the ongoing clinical trials indicated that the indigenous COVID-19 vaccines would be effective against the mutated virus strains reported from the United Kingdom, South Africa and Brazil.
Also Read: ICMR: Clinical Trials Indicate India's Vaccines Will Be Effective Against COVID-19 Variants
Dr Balram Bhargava, Director General of ICMR said a paper on Covaxin's neutralisation potential against the UK strain has been accepted for publication.
In the case of the variants from South Africa and Brazil, efforts were on to isolate the mutated virus strains from the samples collected from travellers from these two countries.
Also Read: India Issues New SOPs For Travellers From UK, S Africa, Brazil; Declaration Of 14-day Travel History Must
Despite this, it is clear that the ever-changing viruses have made it difficult for researchers to keep up with research on vaccines. Variants could emerge in the future that can be more different again. But hopefully, the vaccines can be tweaked and redesigned accordingly. As with flu, where a new shot is given each year to account for any changes in circulating flu viruses, something similar could happen for coronavirus
Is this spread of these mutated viruses in India a cause for concern?
Right now, this isn't a major cause for concern in India, as only four cases of the South African variant and one case of the Brazil variant have been reported by the government in India. 187 cases of UK variant have been detected in the country so far and rigorous contact tracing and testing are being done to mitigate the spread of the virus. Authorities have become vigilant and strict measures have been taken to keep a check on international passengers arriving in India.
The number of new coronavirus infections in India has dropped down in India, but it has also raised fears that people might become complacent, and that these variants might take hold, destroying the population immunity and triggering a resurgence. So it is important to contain the spread of these mutated viruses so that these variants can't become dominant.
Also Read: South Africa & Brazil COVID-19 Variants In India Reiterates Need Of Maintaining COVID-19 Protocol 

Click here for Latest News updates and viral videos on our AI-powered smart news
For viral videos and Latest trends subscribe to NewsMobile YouTube Channel and Follow us onInstagram