'The Big Apple' or 'The City That Never Sleeps' is a destination that welcomes one and all. Known to be a melting pot of cultures, it lives upto its name with people from all walks of life present. Even a walk down the street is an adventure; moreover, there are fun events, iconic monuments to visit, parades and so much more to do in this bustling city. New York City makes every visitor fall in love and here are a few tips from us to help make your visit even more memorable.
New York Pass
New York City affords you a plethora of options to choose from. However, when combined visiting all these attractions can get expensive. Purchase a New York Pass that will provide you with free entry to iconic places and unique tours  of Brooklyn Bridge, Central Park, 9/11 memorial, big bus tours and more. There is a fast-track option that allows you to skip lines as well. With over 90 attractions to choose from, you can purchase the pass according to the duration of your trip.
There's a free app – New York Pass App that can be used as a guide and planning tool.
Go Card
NYC go card is another great option to enjoy NYC attractions. You can opt for the Build Your Own Pass, since there are options for all sorts of travellers. The GoCard can be accessed on your phone and remains valid for a long period.
ATTRACTIONS
Central Park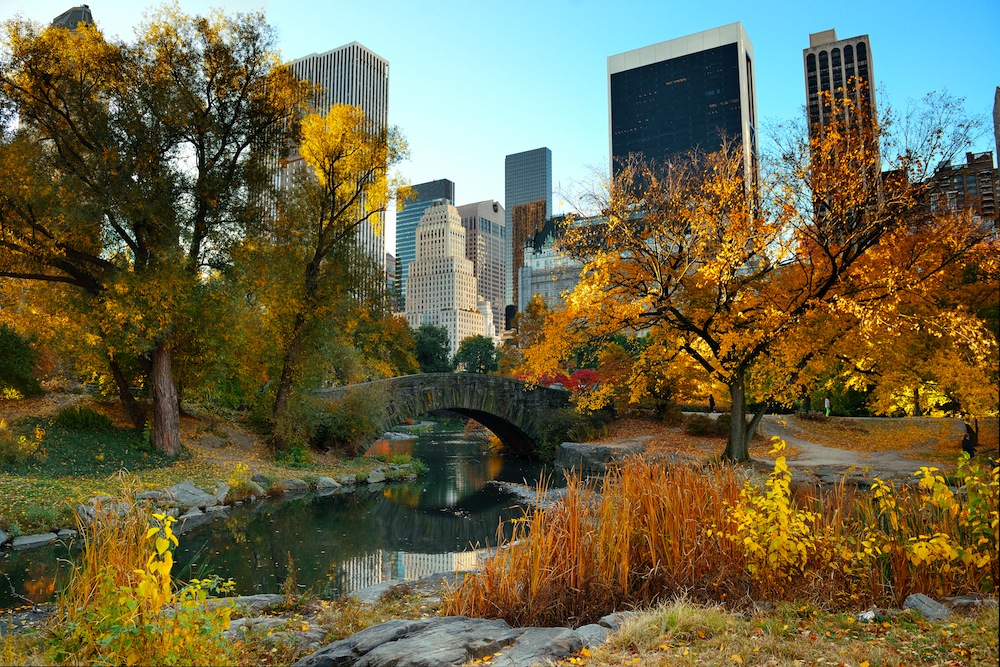 This 843-acre park is the ideal place to relax, have a picnic, play games for children or just enjoy the scenery on a sunny day. It provides a perfect escape from the towering skyscrapers all over the city and gives visitors a perfect taste of the big apple.
Times Square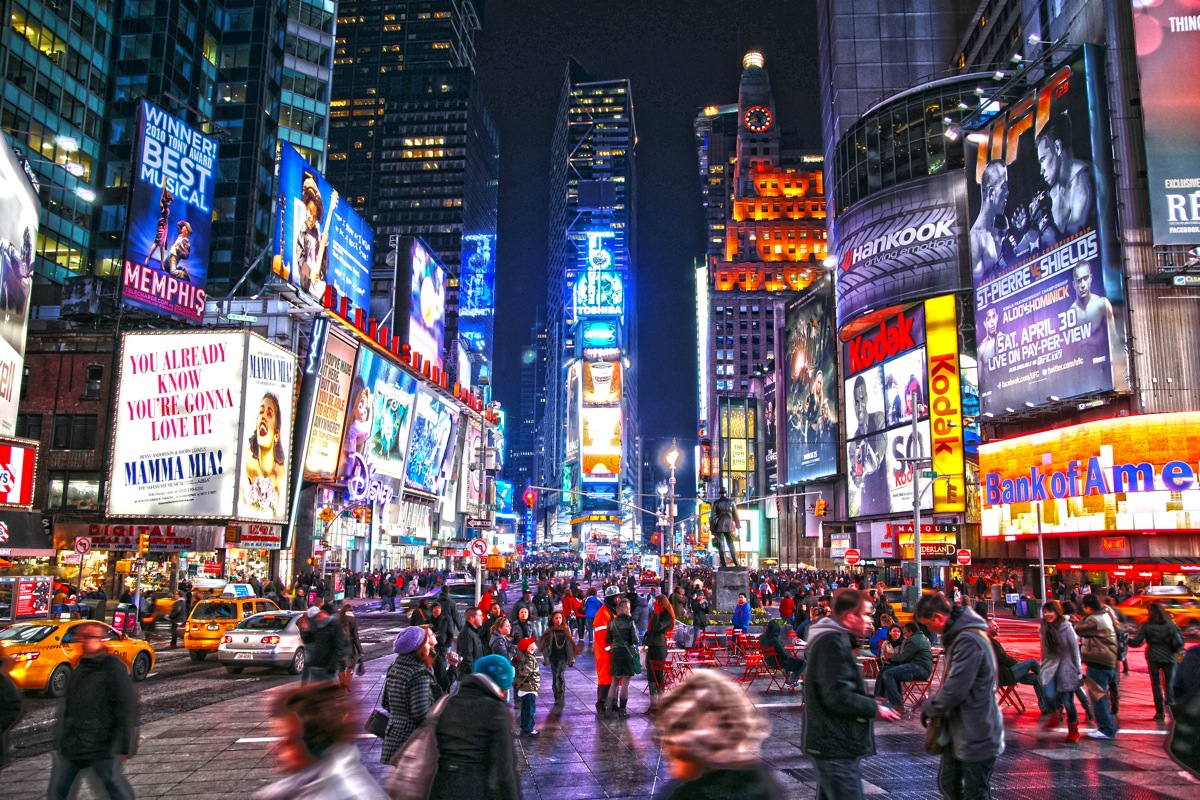 Times Square is the most vibrant portion of NYC. Sky-high flashy buildings, massive multi-stored shopping areas, shoulder-to-shoulder diverse crowd, chaotic mix of huge billboards, digital displays, elmo clowns and other characters from your favourite movies are just the beginning. The flash of light and splash of colours that greet are sure to leave you amazed.
9/11 Memorial
Two 30-foot waterfalls sit where the Twin Towers once stood. The massive pools almost an acre in size, have bronze panels inscribed with the names of 2,983 people who were killed in the terror attack. There exists a museum next to the memorial that contains exhibits related to the victims provided mainly by the families and over 500 hours of video.
Museum of Natural History
The largest natural history museum in the world is also one of the most grand locations of New York. It contains 45 exhibition halls and holds more than 30 million artefacts from the land, sea, and outer space.
Statue of Liberty
France's gift to America, this statue remains a symbol of freedom to this date. One of the largest statues, it offers a scenic view of the New York Harbour and lower Manhattan. Take the ferry or boat ride from Battery Park to Ellis Island where the statue is located. Purchasing of tickets beforehand is important, especially during peak season.
The Hornblower cruise is a must as well. It depart from Pier 15 and travels down the East River, through New York Harbor, up the Hudson and back along Lower Manhattan's shoreline. This cruise lets you enjoy unparalleled views of the city and its iconic landmarks.
Broadway Show
Broadway Shows are almost synonymous with New York city. Over the years, it has reinvented itself and presently consists of 41 theatres, mainly clustered around Time Square. Millions of tourists flock to see the best Broadway shows like the long-running 'The Phantom of the Opera' or popular family shows like  'Matilda', 'School of Rock', 'Aladdin' or even the recent hit 'Hamilton'. Broadway has a plethora of options to choose from.
Freedom Tower and One World Observatory
The tallest building in the Western Hemisphere hosts an observatory in its top three floors providing you with a breathtaking view of New York City. Start your experience by reaching the top in less than 60 seconds and move ahead to enjoy the unparalleled skyline that truly takes your NYC experience to a different height!
Take this experience a step forward and enjoy an exquisite meal overlooking the skyline at 'One Dine' the restaurant or drinks at 'One Mix' at the observatory deck. To top it all, retail therapy awaits you at the Freedom Tower's shopping stores. There is something for everyone.
Brooklyn Bridge to DUMBO 
Walk across the Brooklyn Bridge for an awe-inspiring view of both Manhattan, Brooklyn and Statue of Liberty. This windy walk is the best to take on during sunset, but make sure you are dressed adequately because it can get chilly.
DUMBO – Down Under the Manhattan Bridge Overpass is home to some of the city's best restaurants and parks, and has Instagrammable views of the Manhattan skyline. Scenes of the popular movie – 'Kal Ho Naa Ho' were shot in this area.
The New York public Library, Washington Park, Rockefeller Center, Bryant Park, which has some of the best waffle stands and flea markets are some other popular locations in the city among others.
Shopping 
Woodbury Common Premium Outlet
Shopping in the Big Apple although fun can get pretty expensive. Take a trip to Woodbury Common Premium Outlets for all who love shopping, while saving money at the same time. The largest outlet center in the state hosts brands like Calvin Klein, Diesel, Gap, Puma, Nike, Ralph Lauren, Tommy Hilfiger, Timberland and more
Macy's Herald Square
The Macy's flagship store is one of the largest department stores in the world, almost 2.2 million square feet in size. From jewellery, bags to clothes and cosmetics, you can find everything in one gigantic store.
Fifth Avenue
Fifth Avenue is home to some of New York's most iconic stores such as Tiffany & Co, Saks, Cartier, Armani and Bergdorf Goodman. There's also a mammoth 10,000 square foot Apple Store that's open 24 hours a day. It also has a sephora, Gap which are some of the more reasonable stores.
SoHo
SoHo with its cobbled street and antique architecture, is one of NYC's most beautiful shopping districts. There are vintage antique shops, high-end designer stores and stunning art galleries. You'll find popular department stores such as Bloomingdales and Barneys New York, as well as one-of-a-kind boutiques that sell everything from couture hats to taxidermy.
A trip to New York City equals memories worth a lifetime. Exploring the neighbourhoods, visiting the unique locations and revelling in the vibrant culture is a rewarding experience for any traveller.