The West Coast is the ideal place for a family vacation. The sunny beaches help you unwind from your daily tedious routines, and the myriad tourist attractions from safaris to amusement parks satisfy your sense of adventure. There's something for everyone in the Golden State. To make sure, you can have your dream vacation, we have some details that can help you plan your trip!
Best way to tour California
Flying is a relative easy option in California, since its a massive state – nearly 800 miles and has a lot of airports. From LA to San Diego, the airports are a work of art themselves.
Road Trips are the best way to tour California. An easy-to-navigate network of more than 80,467 kilometres of good-quality highways and freeways that link almost corner of the state. Whether you have your own car, or rent a car from providers such as Hertz, Avis, Enterprise etc. the trip will be worth it.
FAVOURITE DESTINATIONS

LOS ANGELES
Venice Beach
The kooky epicentre of California is known for its vibrant and eccentric spirit. From the world famous boardwalk that is perfect for watching people of all kinds and beautiful beach to lay out in the sun to the shopper's paradise of Abbot Kinney, Venice Beach offers a mix of activities and attractions. One of LA's significant cultural centres, its a must visit.
Where To Stay – Santa Monica and to its south Venice represents the perfect lifestyle for many. Ambrose, a bed and breakfast is a perfect choice for inland Santa Monica with Arts and Crafts-styled decor and boutique rooms.
Hollywood
Hollywood – home of the US film industry in LA is a diverse area, where celebrities are never far. The Hollywood Walk of Fame, where more than 2,400 figures are immortalised is a significant landmark. The many theatres, studios and more add to Hollywood's unique charm.
Where to Stay – For a stay near Hollywood, the ideal hotel is Marriott Burbank. Located near the airport, with great hospitality and services, it is ideal for all looking to have a lavish vacation. Sheraton Universal hotel local near Universal Studios Hollywood is another perfect stay, where you can mix relaxation with travel.
Hollywood Bed&Breakfast and Magic Castle Hotel are other popular stays located around this area.
ALSO READ: Thinking of a road trip? Why not head to California
SPECIAL TREAT FOR THE KIDS
Universal Studio – "Entertainment Capital of LA"
This them park offers a variety of attractions ranging from 'Despicable Me: Minion Mayhem' to the 'Wizarding world of Harry Potter' with rides like 'Flight of the Hippogriff' and so much more. 'Jurassic Park' and 'Revenge of the Mummy' are some of the other attraction. Universal Studio offers you a glimpse of life inside your favourite movies.
Wizarding World of Harry Potter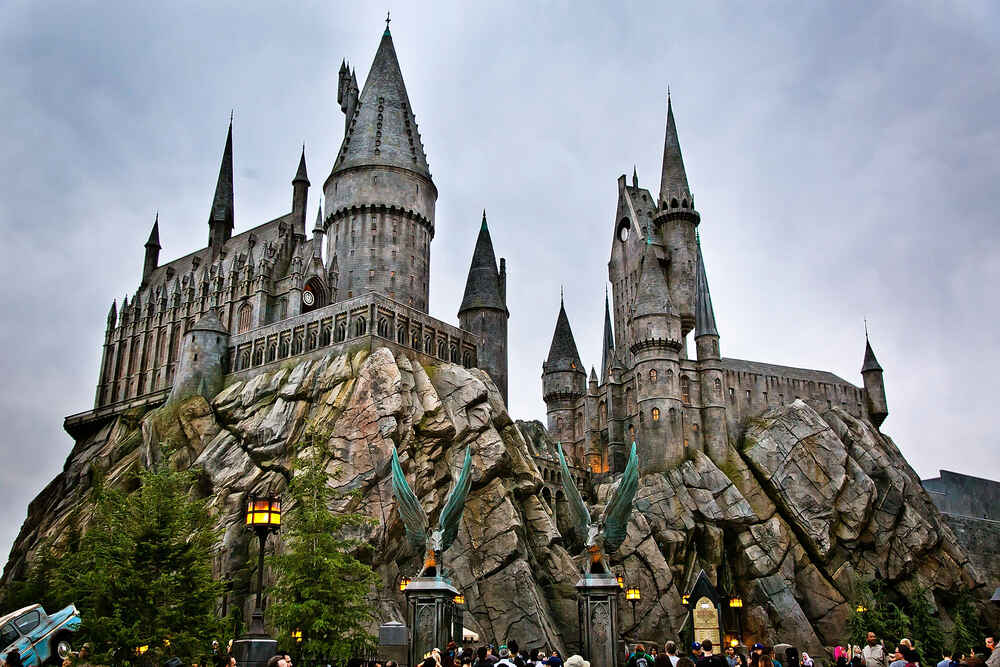 Tip – Purchase the Go Los Angeles Card to save money. It covers 37 different attractions (only exception is Disneyland) within Southern California. It can be customised according to your travel requirements as well.
Disneyland
Disneyland Park has two areas – Disneyland and California Adventure Park.
Disneyland: It is the original Walt Disney theme park, divided into 8 'lands' such as 'Adventureland', 'New Orleans Square', 'Mickey's Toontown' and more.
The must do rides recommended by all are 'Space Mountain', 'Pirates of the Caribbean', 'Splash Mountain', 'Indiana Jones Adventure' and 'Haunted Mansion', although there are more than 60 other attractions overall for all age groups. Don't forget to meet your favourite characters- Mickey Mouse, Donald Duck, Cinderella and many more!
Pirates of the Caribbean
Mickey's Toontown
ALSO READ: Destination Niagara Falls, your perfect family getaway on the US East coast
California Adventure Park: The relatively new park has 6 themed 'lands' – Sunshine Plaza, Bugs Land where you can discover a world of bugs in the hilarious 'It's Tough to be a Bug! 3D movie'; 'Cars Land' and more.
Cars land is designed as the near exact replica of the town Radiator Springs from the Cars films. The 'Radiator Springs race' which is one of the most popular and elaborate, begins with a scenic drive through the mountains then enters the show building where the vehicle finds its way into the town of radiator springs and gets a race briefing from Lightning McQueen and ends with an outdoor side-by-side dueling race to the Comfy Caverns Motor Court.
Cars Land
Tips for touring Disneyland
Disneyland is crowded irrespective of the day, weather, time etc. To avoid long lines which sometimes take hours, enter FastPass -Disney's free, ride time reservation system, and your best bet at avoiding lines. You can hold only one Fastpass at a time.
Buy the 'Hopper Pass' which grants same-day access to both parks with transport between them, as well as a 'Pick-a-Park' option, granting access to one of the two parks. Even access to Downtown Disney is provided with round-trip hotel transport covered.
Weekends and special holidays like Thanksgiving, Christmas should be avoided. Start early in the morning, because in Disneyland – timing is everything!
The Disney Parade and Fireworks timings can be found online on the official website, scheduled according to the time of the year. The grandeur of these shows with infusion of new-age technology and surprise performances by Disney characters is sure to leave you in awe.
SAN FRANCISCO 
Golden Gate Bridge
Once called "the bridge that couldn't be built," it is one the seven wonders of the modern world. This magnificent bridge is a famous landmark that cannot be missed.
Pier 39
Amazing views, sea of sea lions, California wines and lots of shoppign await you at Pier 39 – most visited destination in San Francisco.
Tip – Purchase the Go San Francisco card or San Francisco city pass depending on the duration of your stay. The Go SF card allows you entry into 28 spots and pass provides you with discounts and free rides.
Alcatraz Island
First lighthouse on the West coast and federal penitentiary, this infamous prison island is part of the Bay Area's 80,000-acre Golden Gate National Recreation Area. A visit to the island includes a tour of the cell house where visitors can see where the prisoners lived.
A trip to California is a must for anyone who is visiting the United States!