Weekends can sometimes get boring when you have no idea what to do and where to go. And as you know 'there aren't enough days in the weekend', so why waste it. NewsMobile gives you options to spend your day well.
Connaught Place, popularly known as CP by the Delhites is your destination this weekend.
If you are wondering about what all you can do there, then the list is never ending.
Eat and Drink:
Tamra- Shangri-la's – Restaurant:
Indulge in a sumptuous feast of authentic Malay cuisine, with aromatic herbs at Shangri-La's- Eros Hotel. Charcoal grilled chicken satays, a chicken in spicy coconut turmeric gravy called 'Ayam masak Lemak cili Padi'and randang are a must have.
Wenger's for snacks:
Wenger's at Connaught place is where you can go. The lip smacking taste comes at pocket friendly price. The succulent galawati kabab and chicken patties is what you need to taste. The chocolate truffle will satisfy your sweet tooth.
Cha Bar:
Cha Bar is the place for you if you are low on budget. It offers amazing cold coffee, blueberry smoothie at low price. The variety of options for the tea lovers this rainy season is a new concept. Spend some quality time with the books at the Oxford Book Store.
The Burger King- Fast food:
Tired of eating the usual burgers? Here comes the Burger King to rescue you. The chilly mutton burger is just heavenly for meat lovers and paneer grilled burger is for the veggies in the town. The chilly orange mojito will add to the taste.
Bombay Bhelpuri – Street food:
The amazing Bombay bhelpuri is flavored using the basic ingredients and a special secret masala in block F at Connaught place. The small cart will not make you believe until and unless you will go and taste.
Starbucks- Coffee:
The welcoming and comforting ambience along with awesome flavours of coffee is all that you need after a tiring long day at work or in our case shopping. The rain bring with it an urge to sip some coffee, so enjoy café latte, cappuccino and many more at Starbucks.
Going out:
CP is known for many activities and events going on around. You will not get disappointed if you are planning to go there. There are many events like plays and stand up comedies also that take place here regularly.
Monkey Bar- Nightclub:
The ambience will make you fall in love with the place. It becomes the heart of Delhi on the weekend night. Tired after burning the dance floor with your moves? Try rosy lip to satisfy your thirst along with brain freezer hukka, chilli chicken, garlic noodles.
Rahgiri- Event: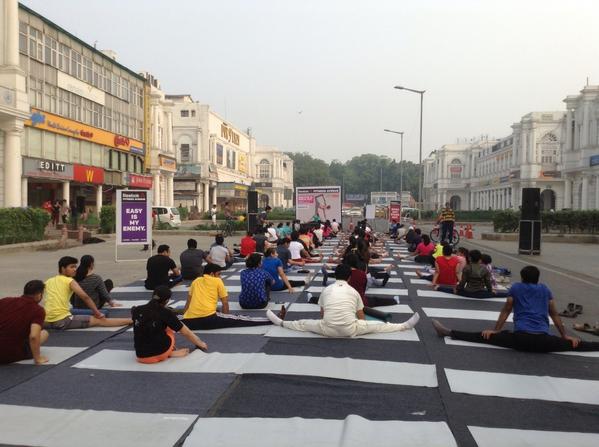 Start your day with Rahgiri. It provides you with a platform to showcase your talent. Connaught place is jam packed every Sunday with such talent. Zumba, dance, yoga, skating, cycling and many more things are performed by volunteers. So, take part and enjoy Dil wali Dilli.
Party:
For all the party freaks out there, this section is especially for you.
You can enjoy the last summer pool party today. Aqua- The Park Hotel is welcoming you to enjoy the 'aquaholic festival'. The mouth-watering food, drinks will make you love it.
Shopping:
The day is not complete without shopping. Connaught place has many options to make your day.
Street shopping:
Janpath in CP is all about shopping. Shop as much you can at cheap price. Janpath has become fashion paradise for the youngsters in Delhi. Be it a party or first day at college, buy dresses, stoles, kurti, footwear, bags and many more at one place.
Offbeat shopping:
Palika Bazar is your destination if you are looking for those funky jazzy caps, t-shirts, rugged jeans, bracelets and more. From sequence work to Chinese phones for just Rs 500 is all available under one roof. Nizam and sons is the place to buy all these.
Accessories:
CP is all flooded with street shops of junk accessories. Funky neck pieces, jhumkas, earrings, ear cuffs are available. To become the showstopper of the evening, pair your outfit with these cheap yet classy accessories.
Accommodation:
Planning a weekend in Delhi and not sure where to stay? If this is your case then we are there to help you.
The Claridges- hotel:
The ambiance will make you fall in love with the place while the flavours will make you adore the taste. Himalayan trout and milk fed lamb is a must have. The interior of the luxurious rooms are well designed to suit your needs and comfort.
B&B:
Saubhag – bed and breakfast concept has been given a new twist by Meera. The owner of Saubhag treats the guests as family and looks after their needs. The interiors are beautiful and the rooms are comfortable and cozy. The mughlai roll and the kitkat shake is a must have.
Where to find peace?
Gurudwara Bangla Sahib is like a paradise for the wandering souls. The place gives you inner peace. It is blessed with the healing power of eight sikh gurus and the sarovar is said to be pious. Volunteers prepare food for people and often indulge in sewa. No religious discrimination is allowed in the gurudwara.