After all the admission madness, students finally get a chance to set foot inside their dream colleges at Delhi University (DU).
What makes DU an even bigger hit among students is the 'bindaas' college life one can hope to experience here. The best of college memories are stitched together at one of the college hangouts. Hangout points are the other classroom, frankly speaking. At DU, student hangouts come in all shapes and sizes.
Primarily, college canteens are considered as best hangout places but after some time it becomes boring and some new destination is required.
So let's take a look at some of the most popular hangouts located in and around Delhi University.
Happening places
You'll find your favorite M'cD, Pizza Hut, CCD, KFC in every nook and cranny of the city, so that's not a problem. Apart from these there are some exclusive places where you can have delicious mouthwatering food.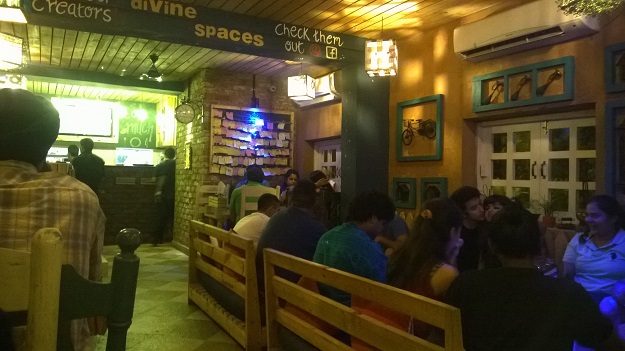 If you are in South or West of the city, go to Satya Niketan situated near Delhi University's South Campus. If in the North, then Kamla Nagar is the hot-spot.
Some of the popular places in the South campus are Nazim's Kathi Roll, Woodbox Café, Idli King, Chicago Pizza. However, the spicy chicken momos at QD's, Barbeque Pizza and Coffee Oreo Shake at Big Yellow Door and the scrumptious burgers at Dude Food are clear favorites. 
In and around North campus, you'll find action at Daawat-e-Mezbaan for Mughlai, Shake Square for thick dessert-style shakes, Momo's Point for the obvious, 3 Pepper for Chinese, Aam Aadmi Pakwaan for South Indian amongst others. 
These places come with an impressive ambiance and yes, you can also take your girlfriend here on the first date, she'll be definitely impressed. 
Places where money doesnt burn a hole in your pocket
You can still have a good time around DU even though there is a 'kadki' and your pocket money is just left for you survival.
You can always go to JP Tea Stall in Delhi School of Economics, Suresh Tea Stall at Hudson Lane, DDA Market in Hudson Lane for refreshments. Tea stalls, juice shops and parantha joints in Vijay Nagar, Patel Chest and Malkaganj are also regular spots for 'Fuchas'. Also, for those who feel hungry during odd hours, some of these serve parantha and tea till late. 
In South Campus as well, there are many good options like  Mithas, opposite Gargi, which is frequented even today by people who had studied at the university years ago, especially for their chole bhature.
Some other delicious eats include rolls at 34 Chowringhee Lane opposite Venky, biryanis and kebabs at Riyaz Chicken Corner in Gautam Nagar, shwarmas at Al Bake in New Friends Colony and the momos at Yashwant Place. 
Delhi university best defines the college life in a 'desi modern' term.