New Delhi: Â Indian politicians rule the roost and travel in style. Indian politicians prefer nothing less than Mercedes, BMWs, Jaguars, Audis or gas-guzzling SUVs to scorch the road.
While marquee brands like Mercedes, BMWs and Jaguars appear to be hot-favourites for the rich and mighty, home-grown SUVs like Scorpios and Tata Safaris are among other common brands.
Check out the list of a few Indian politicians and their luxury wheels.
 
Pranab Mukherjee
German luxury car maker Mercedes Benz in May launched the next generation armoured version of its top of the line S class sedan, which it claimed is the world's safest vehicle from ballistic attacks. The S600 Guard is a preferred choice by 91 heads of states around the world, including President Pranab Mukherjee.
 
Narendra Modi
Narendra Modi was driven to Rashtrapati Bhavan for the swearing-in ceremony in an armoured Scorpio, long used by him during the campaigns. But soon after assuming office, the Prime Minister had to ditch his favourite SUV for a swanky BMW due to security reasons.
The Special Protection Group (SPG) decided to go with the BMW 7 Series 760Li Security Edition for Modi — the most secured vehicle in the country.
 
Hamid Ansari
The Vice President of India, Dr Hamid Ansari, uses a white BR7-level armored 2009 BMW 7 Series High Security saloon. It also has the emblem (Coat of Arms) instead of the number plates.
 
 
Arun Jaitley
India's Finance Minister Arun Jaitley owns a Mercedes, BMW, Honda Accord and a Porsche. Besides, the legal eagle – who reported a total income of Rs 113.02 crore in the 2015 budget – also has a Toyota Fortuner, his poll affidavit shows.
 
Akhilesh Yadav
Uttar Pradesh Chief Minister Akhilesh Yadav is not far behind. The son of former UP CM Mulayam Singh Yadav owns a Mercedes M-Guard and 2 Toyota Land Cruiser 200.
 
Hema Malini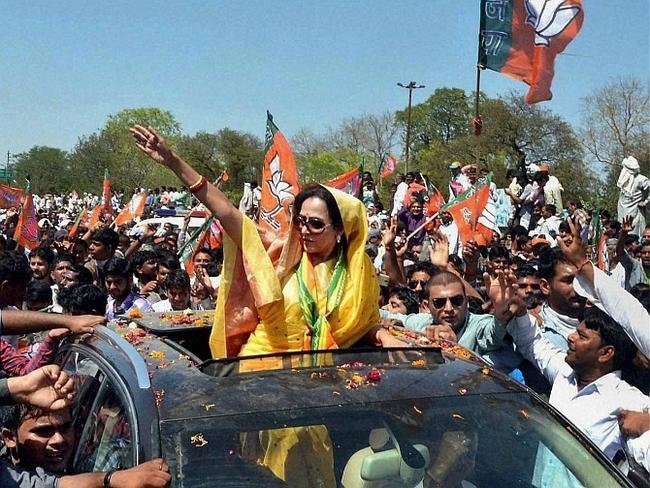 Actor-turned-politician Hema Malini, a BJP candidate from Mathura, owns an Audi  Mercedes and a Toyota Innova.
 
Shazia Ilmi
Former AAP MLA and current BJP member, Shazia Ilmi, has declared that her husband Sajid Siraj Malik has a Mercedes Benz and a Jeanneau yacht.
 
Manoj Tiwari
BJP member and a Bhojpuri film star Manoj Tiwari, who contested from Northeast Delhi seat, has a fleet of cars, including Audi Q7, Mercedes Benz E280, Fortuner and Honda City GXI.
 
Meenakshi Lekhi
Another BJP leader, Meenakshi Lekhi, has not listed any vehicle in her name, but has declared Jaguar, BMW, Beetle and Chevrolet cars in her husband's name. Her husband, Aman Lekhi, is a lawyer by profession.
 
Kuldeep Bishnoi
Haryana Janhit Congress party chief Kuldeep Bishnoi owns five cars, including a Jaguar XF, an Audi Q7 and a Range Rover.
 
(With inputs from PTI)