New Delhi: On first International Yoga Day celebrations, Prime Minister Narendra Modi said yoga reaches out to everyone and cuts across caste, creed and colour.
"Yoga cuts across differences of class, colour and creed. Solidarity shown by neighbouring country has brought us closer," Modi said. 
He also said yoga is a philosophy and a 'Yogi' is someone who is in harmony with oneself, his body, surroundings and nature and added that yoga is the key to living life to its full and evidence suggests that practising yoga helps combat stress.
Modi on Sunday surprised many as he joined thousands of participants at Rajpath to practice yoga on the first International Yoga Day.
An avid yoga practitioner, Modi was not scheduled to perform the 'asanas' but he climbed down from the podium after his address to join the over 35,000 participants, including students and officials, in the mass demonstration.
Attired in a white shirt and trousers and a tricolour scraf, 64-year-old Modi did most of the 21 'asanas' along with thousands of participants as part of the common yoga protocol, following the instructions in Hindi and English and images on screens.
Modi was expected to only address the event as External Affairs Minister Sushma Swaraj had on June 9 said that "he (Modi) will grace the occasion and address the gathering but he will not perform yoga".
But after finishing his address, Modi today went near the participants and after removing his glasses sat on a yoga mat in the front.
The Prime Minister was seen wiping sweat with his stole as he practiced various asanas – Pad-hastasana, Ardha-chakra asana, Trikonasana, Dandasana, Ardha-Ustrasana, Vajrasan, Shashankasana and Vakraasana.
Modi also interacted with the children after the yoga exercises.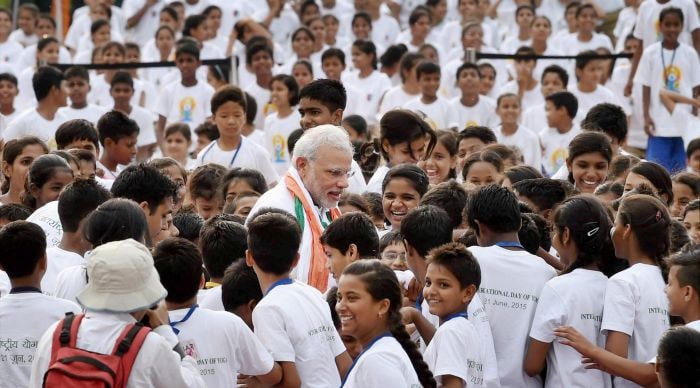 The yoga celebrations are being held in the national capital after the United Nations had in December last year declared June 21 as International Yoga Day, with 177 countries voting in favour.
(With inputs from PTI)