New Delhi: Undeterred by the opposition pot shots demanding resignation of his Foreign Minister and the BJP Chief Minister of Rajasthan, Prime Minister Narendra Modi is on a different mission, a mission to rule the social media. You don't believe it?
The Indian Prime Minister on Wednesday launched his mobile application which provides a unique opportunity to receive messages and e-mails directly from Modi.
"Launched 'Narendra Modi Mobile App'. Come, lets stay connected on the mobile!" he tweeted. 
Download the app here: nm4.in/nmandroidapp and NM app here: http://mynm.in/mxfifho
The Android-based application is also aimed at giving a chance to people to interact with him and share ideas and suggestions.
"The Mobile App has several innovative features. You can download it from Play Store. Feedback is welcome," he further tweeted.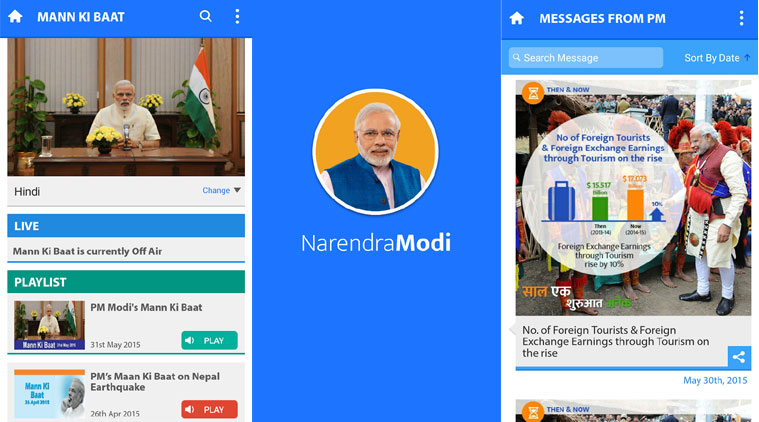 The official app will provide latest information, instant updates and help one to contribute towards various tasks.
The application description said, "Download the app and get the latest updates anywhere, anytime! Highlights of the Narendra Modi app include receiving the latest news and updates, exclusive opportunity to receive E-Mails & Messages directly from the PM and 'Mann Ki Baat' with the PM."
It further said, "Small Tasks, big satisfaction: contribute & earn Badges through to-do tasks." Apart from providing a chance to interact with the Prime Minister and share ideas and suggestions, it will also give latest thoughts from Modi and his blogs.
"Know more about PM Narendra Modi through unique insights in the Biography section as also his governance initiatives\ and achievements," the description said, adding learn more about PM Modi's efforts augmenting India's global recognition and how governance was improving lives through infographics.
Since Modi took office last year as leader of the world's largest democracy, policy pronouncements have come in 140-character snippets. He has used Twitter and other social-media services to engage in diplomacy and build his image in a way few other global leaders have.
Modi's personal account, @narendramodi, has over 12 million followers. That is more than Turkish President Recep Tayyip Erdogan, who has 6.3 million followers.
Modi, who is also on Facebook, Pinterest and YouTube, also joined the Chinese microblogging service, Weibo on May 4.  By late next day, the Prime Minister had 33,000 followers on Weibo.
With such enthusiasm, and the urge to connect with people, Modi is definitely the king of social media.