Prime Minister Narendra Modi wrapped up his three-nation tour of France, Germany and Canada on Friday during which a number of important agreements were signed, including the supply of 36 Rafale fighter jets by France and Uranium from Canada. 
The thrust of Modi's trip was attracting investments and technology for development of India through the "Make in India" programme. 
France was the first destination of his nine-day tour. 
During his stay in Paris, Modi held talks with President Francois Hollande and met business leaders. 
An agreement was signed under which India will buy 36 Rafale fighter jets in flyaway condition from France and a decision was made to move ahead with the stalled Jaitapur nuclear project in Maharashtra. 
"The two leaders agreed to conclude an Inter-Governmental Agreement for supply of the aircraft on terms that would be better than that conveyed as part of a separate process underway," said a joint statement by the two countries.
India signed two agreements related to the plant. The first, a pre-engineering agreement signed with AREVA, Alstom and Nuclear Power Corporation of India (NPCIL), aims to bring greater clarity on all technical aspects of the project.
Indian Railways also benefitted from Modi's visit to France as a pact was signed for cooperation between Indian Railways and French railways for this semi-high speed rail project.
Under this, French National Railways has agreed to co-finance an execution study for "a semi-high speed project on upgradation of the Delhi-Chandigarh line to 200 kmph".
Modi also enjoyed a joint boat cruise Hollande on La Seine river. The boat ride was described as "Naav Pe Charcha" (chat on the boat).
Hollande was seen giving details to Modi about various areas as the boat cruised through the river.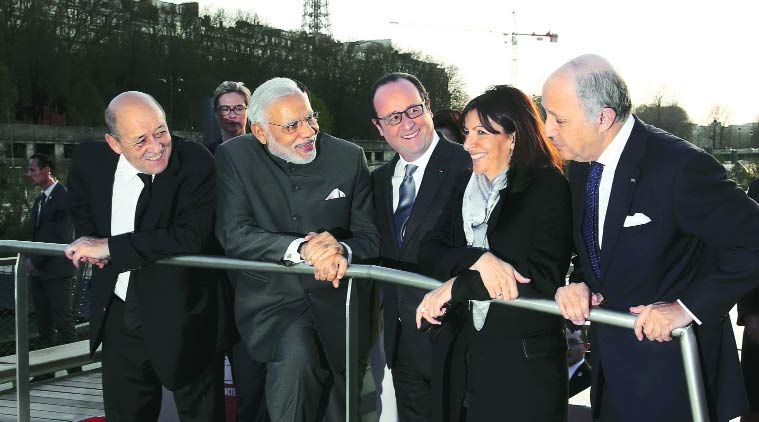 Many people enjoying a boat ride in the river at that time were seen waving at the dignitaries, including French ministers.
During the PM's three-day stay, France pledged 2 billion euros for sustainable development in India as Modi invited investments and technology from this country.
The two nations signed about 17 pacts, covering areas like civil nuclear energy, urban development, railways and space.
Following a successful trip to France, Modi headed to Germany during which he inaugurated the Hannover Fair of which India was a partner country. The theme of the fair was 'Make in India'. 
Modi's pitch for attracting foreign investors to boost his 'Make In India' initiative came at the inauguration of the Indo-German Business Summit where he and Chancellor Angela Merkel opened the India Pavillion.
Modi told top German businessmen and industrialists not to go by "old perceptions" but to come to India and feel the change in the regulatory environment.
Making an all-out bid to woo German investors, Modi also promised to make "corrections wherever required" to make India a global manufacturing hub.
Saying that the Make in India lion was a "symbol of new India" and a "national movement", Modi told the audience at the Hannover Messe that his government has moved "with speed, resolve and boldness" to create a stable economic environment, including by opening up FDI in insurance, defence and railways, building a stable tax regime and assured protection of intellectual property.
In his inaugural address, Modi said with Merkel listening keenly, that all the credit rating agencies have spoken "in one voice of optimism about India. We know that the wind is blowing in the right direction, and it has made us the fastest growing economy in the world."
He held talks with Merkel and announced that a mechanism will be established to facilitate investment and business from Germany as the two countries agreed to broaden bilateral economic cooperation. 
Besides bilateral talks, he emphasized on India and Germany's inclusion in the United Nations Security Council and conveyed his confidence and support to Merkel about the same.
 
Linking India's economic progress to national "self-respect", Modi said that the country has huge potential of becoming a manufacturing hub and asked Indian professionals in Germany to act as a "bridge" between the two countries.
"There is a big demand of time that India becomes a manufacturing hub. If we lose this opportunity, we will regret later," Modi told NRIs while addressing a reception hosted in his honour.
Modi's final destination was Canada and his visit to the country was the first ever bilateral visit by an Indian Prime Minister in 42 years.
Besides meeting business leaders and making stops at Toronto and Vancouver, he held talks with his Canadian counterpart Stephen Harper in Ottawa after which Canada agreed to supply 3,000 metric tonnes of uranium to India from this year under a $254 million five-year deal to power Indian atomic reactors.
Canada is the third country to supply uranium to India after Russia and Kazakhstan. The supplies will be under the International Atomic Energy Agency (IAEA) safeguards.
Following the diplomatic coup, the Indian Premier received a "rockstar" reception from the Indo-Canadian community in Toronto as thousands chanted "Modi, Modi, Modi" as Modi took the stage to address the diaspora.
Asserting that a new "atmosphere of trust" has developed in India since he took over 10 months ago, Modi vowed to "clean up" the mess left behind by the others.
"There is a new atmosphere of trust in our nation… We say 'jan gana man adhinayak' — that 'Jan Man' has changed," Modi said addressing in Hindi.
Modi, accompanied by Prime Minister Harper, also visited the memorial in Toronto for the victims of Air India Flight 182 that was bombed in 1985, killing all 329 people on board. 268 of them were Canadian citizens, mostly of Indian descent. There were 24 Indian and 27 Britons as well.
At a reception hosted in his honour by Harper, Modi said, "The importance of a visit is not measured by length but by the objectives…this was a historic visit, not because an Indian Prime Minister is visiting here after 42 years but because after 42 years, the clouds of distance have gone away in a moment."
(With inputs from agencies)
(Pic Courtesy: Photo Division, pib.nic.in)