After 60 years, Ballon d'Or decides to honour women footballers. The 23 year old Norwegian footballer Ada Hegerberg walks on stage to accept the prestigious award. She makes an rousing speech and asks girls across the globe to believe in themselves.
What happens next demeans the very idea behind recognising women footballers. The presenter DJ Martin Solveig asks Hegerberg if she knows 'how to twerk.'
Hegerberg responds with a swift 'no'. Solveig, later, takes to his official handle and apologises for what he called was a misunderstood situation. Even Hegerberg lets the comment slide.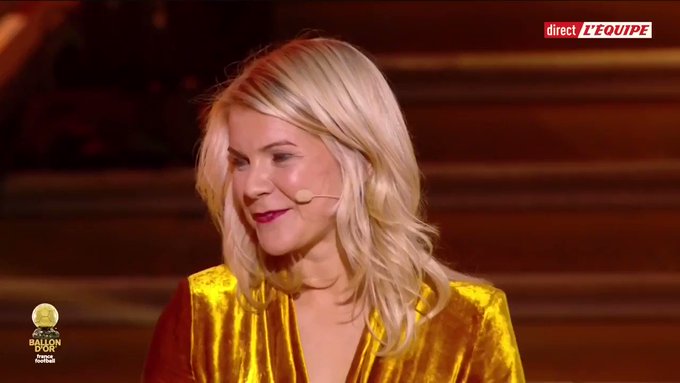 So, why are we talking about it? Because, despite the presenter blaming the question on his lack of English language and culture, the fact, for all to hear, is that the question was asked in French. A global audience heard it. Girls and boys who breath and sleep football heard it.
And what they heard was that it was Hegerberg and not Luka Modric, recipient of the Ballon d'Or for men, who was asked to twerk as well as to dance on stage after receiving the award.
ALSO READ: Winner of the first-ever Ballon d'Or for women asked to 'twerk' at the award…
And it won't be surprising if they processed that – Hegerberg was on stage as a footballer who has scored almost 300 goals, so far, in her career and she was not asked about her football prowess, her best games, the most memorable goal it her favourite football player. She wasn't ask whether she can execute a rainbow kick, instead she was asked whether she knew how to …… 'twerk'.
Many excuses can be made about the presenter's poor taste and unfortunate lack of judgement. However, no amount of sighing or apologising can take away the blatant sexism inherent in the question.  And it is not ok to say 'it's ok, it happens.' Sexism and misogyny are to be shunned and not be brushed under the carpet.
The most prestigious award of the sport took a path-breaking step to honour women players. Perhaps it is a curious turn of fate that sexism in sports was highlighted, yet again, at the Ballon d'Or, where it can't be brushed under carpet so easily.
Hopefully outrage that poured in after the comment levels the playing field a bit more.
Click here for Latest News updates and viral videos on our AI-powered smart news genie